Skip to Content
Daily Routine
All Montecito Preschool classes and programs (including drop-in Enrichment) have specific routines that are designed to give children the opportunity to make their own choices. This daily routine is predictable and promotes a sense of security and self-confidence which allows children to deeply engage in play and learning activities.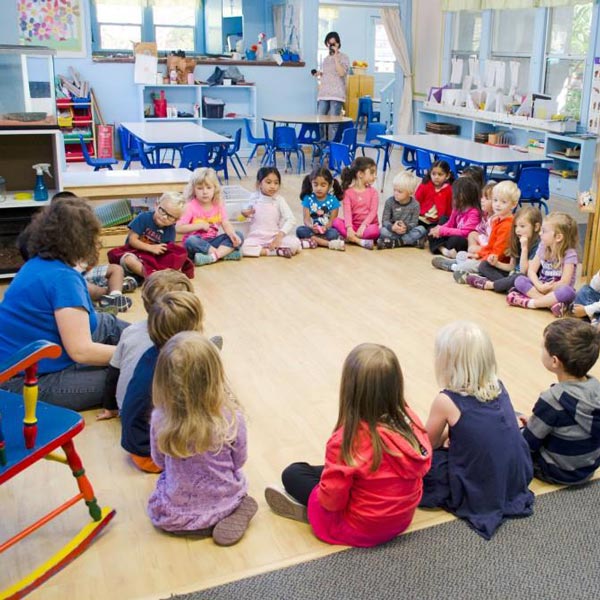 Daily Routine
Opening Circle
To begin the day, children meet in Opening Circle where they sing greeting and theme-based songs, and enjoy stories and finger plays. They are introduced to the day's art, science, language, and pre-math activities.
Children's Choice: Activity Hour
Children choose from a variety of activities in each classroom's learning centers, including dramatic play, books, blocks, art, manipulatives, and science. As children play, interact, and create, they develop fine and gross motor skills, build their attention spans, learn cooperative play and impulse control, develop their social/emotional skills, and language awareness skills.
Small Groups
During small group time, we split the children into small groups for a constructive activity including emerging math concepts, science-based activities, and writing activities.
Bike Time
This is one of the children's favorites! Children go out into a well-supervised space we call the "Bike Circle." This is a large, shared circular open space in the front of the school where children develop gross motor, social, language and cognitive skills as they choose bikes to ride, wagons to pull, play on the tree swing, walk a balance beam, build cooperative structures with blocks, play with balls, hula hoops, and walking cups, look for insects, sell imaginary ice cream or lemonade at the Shop, play basketball, visit the animals, ride on the yellow school bus, or water the garden.
Group Circle
Songs, finger plays, flannel board activities, music, and movement activities are led by a teacher to provide opportunities for children to use and develop cooperation, listening, and language skills in a playful and fun group atmosphere.
Hand Washing & Snack
Children wash their hands and sit together at large tables to enjoy a healthy snack. This time provides opportunities for children to build their language and social skills with teachers and children, as well as practicing their self-help, self-regulation (listening to their bodies when they're hungry), pre-math (measuring & pouring water), and pre-reading skills (for a rotating snack table during activity hour). Montecito provides a healthy snack including organic fruits and vegetables, organic fresh baked bread, cheese, crackers and water (not juice).
Playground Time
Children play outside in their own class playground that is interesting and developmentally appropriate for each age group. There are lots of choices for supervised outdoor activities – digging in the sand, running, jumping, climbing, sliding, swinging, playing in the playhouse, planting in the planter boxes, enjoying the outdoors and playing with friends. Outdoor play supports language development and builds social interaction as well as physical skills.
Closing Circle
When it is time to go home, the children wait for the parent(s) to arrive in a whole group while they do a variety of music and movement activities.
Classrooms
Classroom environment at Montecito Preschool in Los Altos is divided into developmentally appropriate learning areas. Each classroom has at least six (6) learning centers: Blocks, dramatic play, science, listening/writing, circle/music and story/quiet corner.
Classrooms have large windows that allow natural light and expose children to the ever-changing skies and seasons of nature. Curriculums vary to include culturally meaningful activities. Montecito children are taught about cultures, animals, and languages from around the world. Nature is an important focus at Montecito Preschool and can be found inside classrooms and play yards including; animal cages, terrariums, fish tanks, birdhouses, trees, and gardens.
Playgrounds
As soon as Montecito children walk through our gates in Los Altos, CA, they are transported into a natural wonderland of gardens alive with the sounds of cooing doves and happy people. Outdoor activity is a fundamental part of the curriculum at Montecito Preschool. Every classroom has its own large Playground. Our 2-acre campus near Sunnyvale and Mountain View is filled with trees, plants, animals, and insects.
Our playgrounds are outdoor classrooms with many activities to choose from. The Montecito Preschool outdoor environment is accessible, safe and inviting to young children. Every day children are encouraged to learn and interact with nature and animals. This unique environment helps develop children emotionally, intellectually, socially and physically. Learn more on Our Playground page.