Skip to Content
Current/Updated Information on the Coronavirus/COVID-19
Below are links to resources to the Santa Clara County Public Health Department (SCCPHD) and the Centers for Disease Control and Prevention (CDC).
SEE HEALTH & SAFETY INFORMATION
(including heat-related & air quality preparedness)
BELOW MY PICTURE for more detailed information about some of Montecito's health/safety policies and procedures, resources, and heat and air quality resources and information. During heatwaves and fire/air quality hazards, Montecito keeps your children inside in their own air-conditioned and well-ventilated classrooms, keep them well hydrated, use water misters, and while still practicing all safety protocols. This information is also included in your PARENT AND DISASTER BOOKLETS (received at Orientation or on your child's first day of attendance).
As always, our goal and first priority are to keep our Montecito school community and families safe and healthy. I hope to see everyone soon — Keep washing your hands, using social distancing to stay healthy, and go outside!
Health & Safety Guidelines and Licensing Contact Info: Many of you have questions about health and safety guidelines during this unprecedented time. Although I provide information to you from all my health and scientific resources, I want to share our Licensing contact information with you. Mr. James Sampair, Psy.D, is a Licensing Program Analyst with the Department of Social Services Community Care Licensing. As you know, much of the information I send you to come from Licensing, as they govern our licenses – including our health and safety regulations and guidelines. James is available to talk with our parent and school community anytime to answer questions and provide information. You're welcome to call him anytime. His number is 510-542-4257. He looks forward to your calls and is here to support our Santa Clara County community!

Heat-Related Illness Prevention – Summer months in California can bring high temperatures posing a substantial risk to vulnerable populations including children, the elderly, and those with disabilities or chronic diseases. Providers should monitor weather predictions for fluctuations in extreme temperatures and take extra precautions to ensure persons in care are protected from adverse conditions that may cause heat-related illness. Some of the warning signs of heat-related illness include, but are not limited to, heavy sweating, muscle cramps, weakness, headache, and nausea. Vomiting, diarrhea, tiredness, and dizziness can also be indications of heat-related illness. Providers should monitor for these symptoms daily in individuals who have exhibited symptoms of heat-related illness as the effects can last up to seven days.
The Centers for Disease Control and Prevention (CDC) and the California Department of Public Health (CDPH) offer the following tips to stay safe during periods of excessive heat:
Never leave infants, children, dependent adults, the elderly, or pets in a parked car. It can take as little as 10 minutes for the temperature inside a car to rise to levels that can kill, even if windows are cracked open.
Drink plenty of water, even if not thirsty. Avoid really cold drinks or drinks with caffeine, alcohol, or high sugar content.
Avoid hot food and heavy meals. Encourage frozen treats such as popsicles between meals.
Stay in an air-conditioned area as much as possible. Electric fans may provide comfort but will not prevent heat-related illness. Please visit the California Office of
Emergency Services document on local cooling centers near you.
Note: CDPH has released guidance for heat-relief shelters to help support a safe and clean environment during the COVID-19 pandemic.
Limit outdoor activity to when it is coolest, for example during morning and evening hours. Rest often in shady areas.
Wear a wide-brimmed hat to cover the face and neck, wear lightweight and loose-fitting clothing to keep cool, and apply sunscreen of SPF 15 or higher 30 minutes prior to going out to protect skin from the sun.
Monitor those on medications. Many medications increase the likelihood of dehydration.
To prevent overheating, use cool compresses, misting, showers, and baths. Seek medical attention if the following symptoms are observed: throbbing headache, unconsciousness, red, hot, and dry skin (no sweating), rapid, strong pulse, feeling delirious, or a body temperature above 103 degrees.
Check the local news for extreme heat alerts and safety tips.
Link to the California Department of Public Health All Facilities Letter: AFL 20-65 Level II Extreme Heat Alert.
If you experience a power outage that negatively impacts your facility, CCLD strongly encourages you to contact your Regional Office immediately.
RESOURCE MATERIALS AND STUDIES ABOUT TRANSMISSION OF COVID-19 BETWEEN CHILDREN & FROM CHILD-TO-ADULT: Many parents have asked me about the child-to-child and child-to-adult transmission of this virus. This is an important question, so I would like to share the following information with you from Pediatric publications, medical facilities, health organizations, and our RN/Health Advisor Miss Vanessa. Although Licensing and Montecito are not requiring children 6 and under to wear masks, you MAY send your child with a mask to school. Along with our campus safety protocols (see the list below), this will help prevent the spread of communicable diseases. Of course, we will help your child keep their mask on.
Although we are now starting to see more and more children contracting the virus, there is not a lot of research to support child-to-child transmission or child-to-adult transmission. What we have been seeing is a lot of is adult-to-child transmission. The CDC has been recommending since the beginning of SIP that children over the age of 2 should be wearing masks to protect themselves. Although there isn't much evidence or research supporting child-to-child transmission, there are studies that show children 10 and older are capable of transmitting the virus at the same rate as adults. The following links give some scientific research findings:
MONTECITO'S Health and Safety New Procedures
Here are Montecito's new health and safety protocols and expectations when returning to school, along with our upcoming events prior to school and during Orientation (the first days of school). We are all accountable for each other's health and safety at our school. We need YOU (our parents) to be responsible for:
Communicate with Montecito and keep sick children home. Tell your teachers, Miss Erin or Purva in the office if you or a family member or your child has/have been sick recently or has been in contact with someone who has tested positive for Coronavirus (COVID-19), and/or if someone in the household has symptoms (cough, fever, shortness of breath). You will also be asked 5 questions at drop-off time (and wear your mask), so you may communicate this at that time as well. Please don't wait until drop-off time, and as soon as you have this information, please let us know via email or by phone and keep your child(ren) home. When returning your child to school after being sick, please bring a doctor's note that states what your child's diagnosis was and that they have medical clearance to come back to school (which can include a negative COVID test as well depending on the circumstances).
Note: There are many places you can be tested for COVID-19 for free, so let us know if you need some resources for testing sites.
Help us health screen your children for flu-like symptoms by taking their temperature BEFORE you come to campus. We will be taking their temperatures at the car or the gate and asking pre-screen questions of every parent during drop-off time. But you can help by making sure to take your child's temperature and checking on their health before bringing them to school/camp.
All parents dropping off or picking up children or coming to the Montecito campus must wear a mask. All adults are required to wear a mask. Children under 6 years old are not required to wear a mask, and children over 6 are required to wear a mask. Of course, all our staff will be wearing masks at all times while on campus.
No parents will be allowed inside our classrooms or inside our offices. Please abide by this by either driving through our traffic circle and allowing us to sign you in on our iPads and clipboards (no parents will touch a pen or iPad or clipboard) OR by parking on Grant and walking your child in and stopping at the front gate of your classroom yard.
All parents should have all forms completed and emailed, faxed, or handed to one of our teachers or administrators outside before their child(ren) may attend school/camp/drop-in. If you have questions about whether you are missing any forms for back-up or drop-in care or for your regular class, you can reach out to our Director Miss Erin (erin@montecitoschool.com), or Miss Purva in the office (admin@montecitoschool.com). When you enroll, you will also receive this information in your classroom placement letter. THIS ONLY APPLIES TO NEW STUDENTS WHO HAVEN'T BEEN TO MONTECITO YET.
Note: If we see that you're missing a form, we will ask you to go back to your car to complete the missing forms and then come back with the form before you can drop-off your child to their class. We will not allow parents to sit on the benches inside our traffic circle area while on campus (except during campus events after following protocols).
During the time on campus, all children will be in groups of 12 and/or 24 or fewer children with 2 to 6 teachers (depending on the size of the classroom) and will stay in the same classroom, playground, and bike circle area during class, camp and drop-in time at Montecito. Community Care licensing and the County Health Dept. will allow cohorts/groups of 24 children in one large setting, as well as up to the specific room capacity (if it's larger than 24), based on the size of the indoor and outdoor spaces. No children will go from one room or playground to another, except under unusual circumstances and with prior permission from parents and the Director.
Montecito is following all cleaning and health/safety protocol according to the CDC, County Health and Licensing guidelines and according to our training and information provided by our Medical Analyst and RN (Registered Nurse) Miss Vanessa Albright. These protocols include, but are not limited to, the protocols contained in this Handbook and additional cleaning protocols practiced daily and weekly by Montecito's teaching and janitorial staff.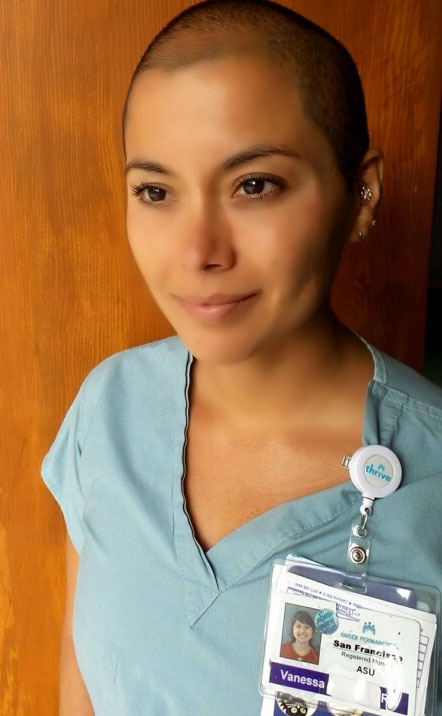 Miss Vanessa Albright, RN/Health Advisor
We recently hired a wonderful Registered Nurse (RN) named Vanessa Albright to help create the most engaging and safe environment for our students and staff. Miss Vanessa is our own Medical/Health Advisor who is teaching and training our competent staff about the post-COVID19 procedures and policies for preventing the spread of communicable diseases and viruses like COVID-19. Although Montecito currently practices all regulated cleaning, health and safety procedures, Miss Vanessa is helping us incorporate all new and additional health protocols into our programs in this new world, all of which are guidelines from the CDC, the County Health Dept., from Licensing and all other health and school agencies we are governed by.
Vanessa is a Bay Area native who proudly completed all her undergraduate education and nursing school in San Francisco. She is an active Registered Nurse at Kaiser San Francisco as a part of the peri-operative team and has dedicated the last 9 years to assisting clients of all ages and backgrounds in surgery preparation. When she's not hard at work, she enjoys outdoor rock climbing, road biking, dancing and the company of her senior cat Hamilton.
Call Now to Schedule a Tour!